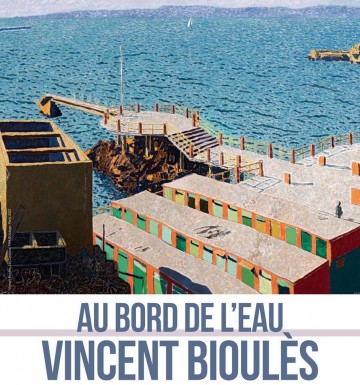 The exhibition "Au bord de l'eau Vincent Bioulès" reveals the work of the artist who captures the atmosphere and flavor of Mediterranean landscapes and their hinterland. His visions of Marseille and the coast are sometimes tinged with romanticism, his generous formats are the expression of a passion for the landscapes and the sea that drive them.
Known as the inventor of the Supports/Surfaces group in the 1970s, alongside Claude Viallat and Daniel Dezeuze, Vincent Bioulès turned for a time to radical abstraction, the enlargement of space and conceptual freedom. Unlike the other members of the group, he never gives up on the stretched canvas. His concern is to work the surface and to accentuate the notion of its extent rather than its materiality. He moved away from Support/Surface in the mid-1970s to return to figurative motifs of urban, natural and interior landscapes which would remain the constants of his work. The deep imprint of the years of abstraction is still felt in the rigor of the compositions and the virtuoso arrangement of colors. An outstanding painter, he seeks subversion within tradition by revisiting the great pictorial subjects: landscape, portrait, nude… with extraordinary freedom.
His era is marked by French modernity, that of Matisse and Bonnard, who came to settle on the Côte d'Azur to find light there. The pictorial adventure of Vincent Bioulès is at the crossroads between modernity and the contemporary era, putting reality at the center of the action. His compositions of a colorful voluptuousness, his sometimes poetic universe are reflections of a heritage of painting from the beginning of the century. The trajectory of the artist is remarkable, in particular his artistic research characterized by his position in the world and his view of others. The diversity of the media he uses and his quest for total experience and truth in his creations testify to the breadth of the artist's means and his taste for experimentation. He states: "A painter is a person who has the memory of a certain pleasure in painting. If I return to the workshop every morning, it is because I will find this pleasure there".
Practical information and visits to the Regards de Provence Museum
Open Tuesday to Sunday from 10 a.m. to 6 p.m.
Temporary exhibition ticket:
Full Price: €7.50.
Reduced rates: €6.50 – €5.70 – €4.00 – €3.00.
Guided tours outside the group: Entrance fee + €7 /pers. (excluding groups), Tuesday and Saturday at 3 p.m. by reservation.
Guided tours for groups: Entrance fee + €7 /pers., every day by reservation.
Free guided tour outside of groups on the first Saturday of each month at 10:30 a.m., excluding entrance fees by reservation (6 to 25 persons).
Registration by reservation at info@museeregardsdeprovence.com or 04 96 17 40 40