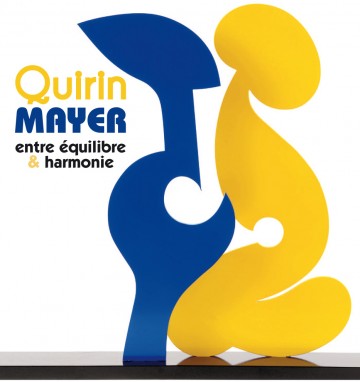 The Musée Regards de Provence celebrates the sculptor, draftsman and painter Quirin Mayer (1927 -), whose work of figurative and geometric abstractions reveals a sense of balance and harmony but also a reflection of today's society tensions. Color is an important element where it sets in vivid touchs, demonstrating optimism and joy.
In his creative process, the artist lets his intuitive creation to the meaning and rhythm of the line, of the shape and color.
In constant artistic research, several periods and themes characterize his work: "World Circus", "Mystery Box", "Constructions", "Wondering Eyes", "Love", "Happy life", "Mediterranean Garden". The energy that emanates from his figures seems to represent a decision, an act of will, or even a desire.
He works on collages, wherein the timing of organic and geometric shapes that are juxtaposed and are succeeded generate a fortuitous distribution. In a free game between creativity and emotion, collages, paintings and sculptures of Mayer offer a genuine alternative to our everyday world.