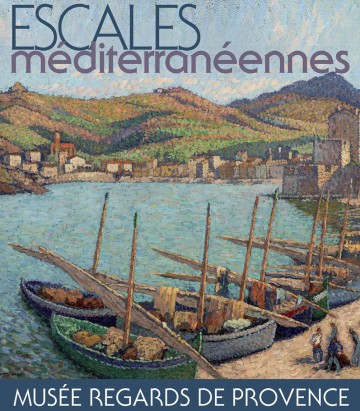 Until January 28th, 2018, the Museum Regards de Provence showcases 80 works which speed the visitor along a pictoral path, stopping here and there at different ports along the way, courtesy of artists of the 19th and 20th centuries celebrating an « art de vivre » of the Mediterranean, where the human element plays a major role.

So many painters have set down their easels on coastlines from the Vermilion Coast to the Côte d'Azur, from Algeria to the Adriatic, inspired by the distinctive characters of certain cities, the lively port scenes, the exceptional geography of the shores between the coves and the hills.

With each artist comes a vision and a special approach mixing romanticism, realism, neo-impressionism, fauvism, pointillism and expressionism. The narrative wends its way through 10 places – Collioure, Martigues, Marseille, Cassis – La Ciotat, Toulon – the Isles of Hyères, Saint-Tropez, Esterel – Agay, Antibes – Cannes, Venice – Dubrovnik – Naples and Alexandria – Algiers. The wide ranging and enchanting nature of these points of view are brought into a larger-than-life perspective by Camoin, Casile, Courdouan, Dyf, Friesz, Galland, Garibaldi, Guillaumin, Hurard, Lebasque, Martin, Olive, Peske, Picabia, Ponson,Puy, Seyssaud, Signac, Valtat, Verdilhan and Ziem.
This exhibition is sponsored by the Société marseillaise du Tunnel Prado Carénage , main patron of the Museum.
The Museum is open from Tuesday to Sunday, from 10 am to 6 pm.
Exceptionally, the exhibition will be closed to the public from the 6 to the 8th of October. We apologize for the inconvenience.
Normal price for 2 exhibitions: 6,50 € – Reduced prices: 5,50 € – 4,70 € – 2 € – Free for Museum Pass and City Pass.
• Guided tour free of charge, except groups, by reservation on Saturday at 10:30 am: entrance fee only (6 to 25 persons maximum)
• Guided tours for groups on reservation from Tuesday to Saturday: entrance fee + 6 € / person (6 to 30 persons max.)
• Guided tours, excluding groups, on reservation: Tuesday and Saturday at 3 pm: entrance fee + 6 € / person (6 to 30 persons max.).