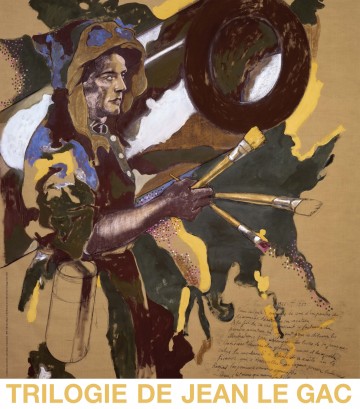 From June 8 to November 19, 2023, the Regards de Provence Museum presents the exhibition "Trilogy of Jean Le Gac" reveals the mythical work of the artist of resonance of images, photographs, drawings, paintings and texts. The abundance of his imaginary and poetic world is vast and embodies his large-format works-installations. The confrontation of three modes of expression - painting, photography and literature - is organized around a most often deliberately anecdotal subject, in which slip allusions to the life of the artist, his youth or his readings and reflections on what it is to write, photograph or paint.
This exhibition reveals the singular work of Jean Le Gac with an astonishing journey of bringing together images, photographs, drawings, paintings and texts. The permanent and concomitant use of writing and image allows him to lead us into his poetic imagination of an eternal adolescent, into his inner journeys, rich in pastels, photographs, traces of real and unreal walks, herbariums, and plants… Le Gac transports us to an offbeat universe through the stories it tells and the unusual form it gives them. His works immerse us in the diversity of his views on society, his encounters, his meditations, his fantasy, his back and forth between the visible and the non-visible.
Becoming a drawing teacher in 1958 for a living, he spent part of the 1960s experimenting with all the schools – "Fifteen days cubist, fifteen days abstract, fifteen days landscape artist, etc. ", always at a distance and with the feeling of being an intruder or a stranger: "Parisian art at the time was a very hermetic environment. We did not enter it, unless we were recommended, to know where to go. I didn't know any of that. In 1968, he thought about giving up any artistic approach before quite suddenly finding how to invoke painting while keeping it at a distance through writing and photography. "It was a way of turning your back on contemporary art, which was quite hostile" towards him. It was also a way of inventing a different language, of which, until today, he develops the potentialities. Le Gac's work is eccentric. He says, "The works are never so strong as when they come to you by surprise." Le Gac arranges a subtle mix of places and motifs and evokes the history of ancient and modern art, literature, cultural news, stories of explorers arranged for children and all kinds of mythologies – ancient, orientalist , romantic or cinematic. To make them appear, Le Gac juxtaposes romantic fragments, photos posed with chosen costumes, superimpositions of drawings on a background of sky or foliage and found objects. For more than fifty years, Le Gac has evolved in this imaginary state of adolescence, faithful to a romantic experience that installed him as in exile in his time. Beneath the apparent evidence of the image, reminiscences and innuendos abound and grip the spectator to draw him into the fiction. He does not hide from being an "art deserter". The term also appears in many titles from 1968. It clearly expresses its rejection of a certain dominant conception of artistic practice. Because under an impassive and good-natured exterior, this man of unparalleled kindness is a rebellious, a rebel, a supporter of the revolution in art.
Le Gac's relationship to writing is marked by the influence of the New Roman on his work, a movement in literary history, also called "the school of the gaze", which radically broke with the traditional forms of narrative in 19th century and profoundly renewed romantic conventions, inherited from realism and naturalism. Very early on, Le Gac was an assiduous reader of Robbe-Grillet, the leader of the movement, whom the artist would call on in his turn. On the other hand, Arnould Galopin and his illustrator Maitrejean are also among his favorite sources of inspiration, especially for his novels for young people. From the New Roman, Le Gac retains above all the criticism of obsolete forms and the absolute necessity of inventing new forms. He also keeps in mind the importance of a kind of self-reflection, of conscious return to the work he is building – at the very moment it is being built. There is in Le Gac a dramaturgy of the police investigation which places his art under the sign of mystery. "Art is an enigma which we will have the solution at the end", says the artist.
The exhibition is curated in collaboration with Jean Le Gac by Pierre Dumon, president of the Association Regards de Provence and Adeline Dumon, director of the Museum.
Practical information and visits to the Regards de Provence Museum
Open Tuesday to Sunday from 10 a.m. to 6 p.m.
Temporary exhibition ticket: Full Price: €8.50.
Reduced prices: €7.50 – €6.70 – €5.70 – €4.00 – €3.00.
Guided tours outside the group in French: entrance fee + €7 /pers. (excluding groups), Tuesday and Saturday at 3 p.m. by reservation.
Guided tours for groups in French: entrance fee + €7 /pers., every day by reservation.
Free guided tour in French outside of groups on the first Saturday of each month at 10:30 a.m., excluding entrance fee (full price) by reservation (6 to 25 people).
Plastic art workshop on the first Saturday and third Sunday of each month at 3 p.m.: fixed price: €9 from 7 to 12 years old & €13 from 13 years old, including entrance fee and free supplies (from 5 to 15 people maximum – duration 1h30).