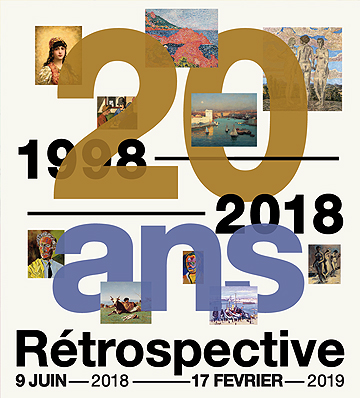 On the occasion of the 20th years of anniversary of the Foundation and Association Regards de Provence, the Musée Regards de Provence dedicates its rooms around iconic works corresponding to major exhibitions that marked their 20 years.
From 1998 to 2005, Regards de Provence was sheltered  in the salons of Château Borély, then in the former salons of the library of the Palais des Arts from 2005 to 2012, and finally since March 2013 in the former maritime sanitary station designed by Fernand Pouillon and rehabilitated into a museum.
This retrospective offers a tour of excerpts of exhibitions, reminiscent of some symbolic artistic events. So many artists, epochs, subjects that have marked the two decades of Regards de Provence, such as The Rural Provence – The Orient of the Mediterranean – Women in Provence – Jean Cocteau and the Mediterranean – A look at Marseille – The treasures of the Sacro monte di Orta – Jean-Baptiste Olive, light prism – The 110 years of OM – Humor & Derision – Alfred Lombard, Color & Intimacy – Auguste Chabaud in Provence – Pierre Ambrogiani, the greedy color – René Seyssaud , the greed of color – Joseph Garibaldi, peaceful South…
The spirit of the collection, composed of artists' looks through works from the nineteenth to the beginning of the twenty-first century, could be summed up in these two antonyms Past-Present. The Foundation has always been enriched by new productions by artists living and working in Marseille or Provence, but also by those who, from afar, look at the realities of this territory, sometimes fantasized. After the acquisition of paintings evoking ports of the Mediterranean in the tradition of the time, the paintings in the collection are moving very quickly towards the nineteenth century with views of Marseille, its port, Provence and its street scenes, his little trades, his colorful sunshine countryside, his iconic sites. The paintings of this late nineteenth and early twentieth are evidence of an era that remains suspended in our imagination and speak of Provence, topics evoking the terroir, nature, countryside, sea, ports, typical villages, street scenes studded with characters, trades …
The Museum is open from Tuesday to Sunday from 10am to 6pm.
Full price 2 exhibitions: 6,50 € – Reduced rates: 5,50 € – 4,70 € – 2 € – Free for the Marseille Museums Pass and Marseille City Pass.
• Free commented tour, excluding groups, by reservation on Saturday at 10:30: entrance fee only (6 to 25 people maximum)
• Guided tours for groups on reservation from Tuesday to Saturday: entrance fee + 6 € / person (6 to 30 people max.)
• Guided tours, excluding groups, on reservation: Tuesday and Saturday at 3 pm: entrance fee + € 6 / person (6 to 30 people max.).