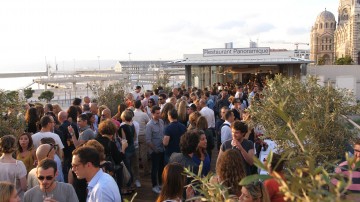 SUNSET PARTIES FOLLOW OUR REGARD
On the terrace of the Museum Regards de Provence is nestled the restaurant - panoramic tea room, Regards Café, its glazed terrace and new rooftop terrace. As an invitation to relaxation, enjoyment and travel, and to celebrate summer, the Regards' Roof Top welcomes you all day and for a few evening parties Follow Our Regard, in partnership with Borderline.
Rooftop Party Tuesday 14th of August

Suivez notre regard Vendredi 2 juin
The Musée Regards de Provence, the Regards Café and the inevitable Collectif Borderline organize the festive evening "Suivez notre Regard" with the DJs of the moment, on the exceptional and vegetal arty rooftop terrace fo the museum.
On the program: one of the most beautiful sunsets, very good sound and tasting of homemade cocktails, local wines and seasonal products cooked tasty.
Free entry at Regards Café from 6 pm to 12 pm (subject to availability).
Season 2 of the "Follow our Regard" evenings with the Borderline Collective continues with the next appointments: Wednesday 1st August / Tuesday 14th August / Wednesday 5th September / Wednesday 19th September / Closing Wednesday October 3rd
At a short distance from the Major, the arty spot offers an incomparable 360 ​​° view of the most beautiful sunsets of summer falling in the Mediterranean.
Like the prow of a boat, with its balcony overlooking the sea, which calls for escape and party, you will enjoy this breathtaking view, while enjoying seasonal products cooked à la plancha, selected local wines and home-made cocktails.
Join the party and enjoy the sunset. At nightfall, the rooftop terrace will vibrate to the rhythm of exceptional DJ guests.
Information on resa@museeregardsdeprovence.com or 04 96 17 40 45.