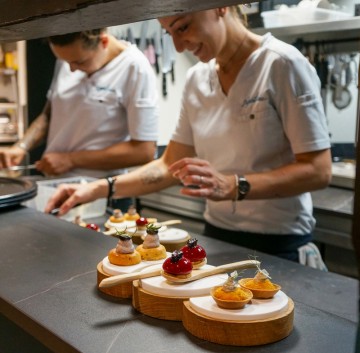 The Regards Café restaurant celebrates its 10th anniversary in 2023, since the creation of the Regards de Provence museum on the occasion of the year Marseille Provence European Capital of Culture. This anniversary is an opportunity to perfect the menu and join forces with one-star chef Coline Faulquier to create new fine and colorful recipes, specially designed for the place steeped in history, art and gastronomy.
Ambitious, endowed with an entrepreneurial character, Coline Faulquier describes her cuisine as "gourmet, feminine, sunny, generous and precise". Seduced by the human and creative qualities of the Chef, who has established herself in the gastronomy world in Marseille, Regards Café invited her to sign a refined menu where fish, poultry, vegetables, citrus fruits and the fruits are kings, coming only from Provence and around the Mediterranean.
The careful preparation of the plate is at the center of the concerns of the Chef, who trained the Chef of Regards Café, Rémy Frimaudeau, and his teams, to design the dishes and the dessert, and to present them nicely and harmoniously in combinations of shapes, textures, flavors and colors.
Coline Faulquier's menu (40€)
Starter: Crunchy salad of peas, feta, croutons and smoked breast Cold cream of peas, mint light cream with black curry (11€)
Dishes: Filet of veal or ballotine of sea bass and panisses with southern scents (black kalamata olive, piquillos, chives, candied lemon) and Greek yoghurt with fresh herbs (26€)
Dessert: Verbena panna cotta, crunchy Viennese biscuit with pepper, fresh fruits of the moment in textures (€9.50)
Coline Faulquier acquired her experience with great chefs such as Jean-Louis Nomicos, Olivier Nasti, Éric Frechon or Christophe Bacquié. In 2016, she became known to the general public thanks to the program Top Chef, and in 2017 she won the title of Young Talent in the Gault & Millau guide. Nourished by her multiple and rich experiences, Coline Faulquier expresses herself today in a creative and sunny register, where the technique, perfectly mastered, serves beautiful harmonies of flavors, in her Signature restaurant, which she opened in 2019. In 2021, the Michelin Guide awarded him his first star and the Young Chef Award.