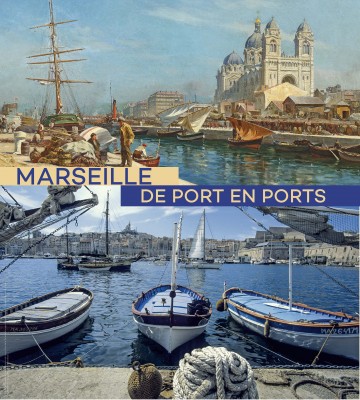 Extended until the 30th of August 2022, the room of the ground floor, the Museum Regards de Provence is  honoring the exhibition "Marseille, from Port to Ports" which reports on  the exceptional geography of the Marseille coast, between creeks, hills  and islands, and its twenty ports through the eyes of some sixty  painters and photographers from different eras. Its isa journey in  images of duos of points of view, linking the distant past and the near  present, and illustrating the permanence of the subjects or their  notable changes and the evolution of the Marseille coastline over time.
Sailing in Marseille from Port to Ports is the itinerary of this coastal crossing offered by this exhibition. The word Port makes you dream, being both a place of arrival and a point of departure, opening the imagination to possible adventures. A port, like a "deepening of the sea in the land", can present itself in a natural way, in the hollow of a creek, at the bend of rock walls plunging into the sea, but it is above all a regulated construction, intended to welcome and shelter boats and ships, disembark or embark passengers, hire sailors and dockers looking for work.
Since the first ancient port which was intended to be a strategic economic and trading place, we can now count around twenty different ports in Marseille! They have diverse and very specific destinations: fishing ports, marinas, commercial ports…
The main ports illustrated in this exhibition are: the Vieux-Port, Anse de la Réserve, Vallon des Auffes, Malmousque, Fausse Monnaie, Pointe Rouge, Madrague de Montredon, Escalette, Goudes, Croisettes , Callelongue, Sormiou, Morgiou, Ratonneau, l'Estaque, Corbières, la Joliette, the Léon Gourret Cruise Terminal, Radoub N10, Marseille Fos.
Several artists have chosen the same points of view. The plastic treatment will be different, depending on the aesthetics of the time, and the elements that make up the painting or the photo. These evocations could also translate technological advances, represent places with obsolete or imposing dwellings, habits of life when the horse preceded mechanization on the ports, or discover that the unloading of the goods was done on the back of a man, on the same platform, and was immediately offered to waiting customers.
This immersion in the gaze of these artists highlights so many aesthetic approaches that combine romanticism, realism, neo-impressionism, divisionism, fauvism, pointillism and expressionism and show a "bio" diversity of enchanting points of view, praised by painters like Allègre, Aubery, Audibert, Aurens, Aubery, Boussion, Cabasson, Camoin, Carrera, Casile, Chasselon, Chauvier de Léon, Coste, Crémieux, Crétot Duval, D'Alesi, De Barberis, De Belay, Dellepiane, Dyf , Friesz, Gaussen, Genin, Gimming, Grass-Mick, Hamburg, Inguimberty, Leprin, Letestu, Lombard, Mattio, Marquet, Martin, Meraga, Moquet, Nattero, Olive, Pomerat, Salomone, Signac and photographers, such as Alt, AstridB , Boudet, Brauquier, Cartier Bresson, Chostakoff, Conti, Cornet, Detaille, Filiu, Iperti, Masson, Moirenc, Nicolas, Plossu, Pourcel, Ramade, …