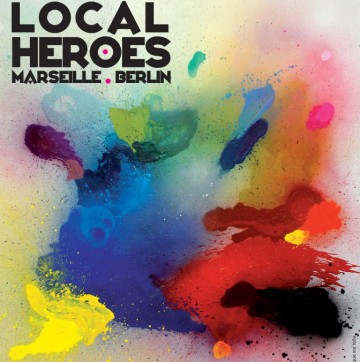 From September 13, 2020 until June 13, 2021, the Musée Regards de Provence presents the exhibition "Local Heroes. Marseilles & Berlin". This event aims to stage artistic, urban and architectural cross-references between Marseille and Berlin and to illustrate the hyphens. between the city and the inhabitant, contemporary creation and daily living, color in the city and in artists' studios.
This is not an exhibition of pure graffiti, but an exhibition of contemporary art, artists who have acquired their training and practice in the streets. Local Heroes refers to the geographic division of the art world between the institutional realm and the parallel or underground scene However, all positions show the language of a young, living and contemporary art that demands and deserves institutional visibility. Although the graffiti movement has spread from the United States to all of Europe, France and Germany are currently among the countries where the scenes are the most active and the styles the most varied.
The outlines of their history described here are very different and are by no means representative of an exhaustive universal overview. This heterogeneous selection intentionally shows how complex the history of graffiti is, depending on location, political situation and individual actors. 1UP, Moses and Taps, Edward Nightingale, Rap, Hams, Eliote, Skubb and Ymmot represent contemporary graffiti artists in Germany and France. Born as a crisis manifestation of a youth, graffiti spread as an adventure game to finally be revealed as an artistic genre: graffiti is a nest for artistic developments and for the inspiration of aesthetic disobedience. The dimensions of graffiti touch architecture, hidden, nocturnal and urban performance, secret languages and visual images that are based on sociological and psychological conceptions of identity. Thanks to these dimensions, gathered in this wild painting, graffiti is a perfect practice to answer these questions raised by the subject Traits d'union.s. The "heroes" of this subculture constitute themselves in a parallel and anonymous world, a secret society in each city. The once American phenomenon finds its stronghold today in Europe, particularly in France and Germany.
It is not only a category of art, nor a typography, it is also a socio-cultural practice serving the theatrical appropriation of the city. However, the artists who are presented do not only paint in the street, they also do "post-street" work such as drawing, sculpture, textile art, video or even YouTube channels. But they still find their inspiration in the street, in the aesthetics of illegality. Their artistic development, outside the visual arts academies and the art market, remains dynamic, young and innovative. In resonance with these "Local Heroes" artists from Berlin and Marseille, and with a view to opening up reflection on the field of "possible hyphens. between these urban practices and those intimate carried out between four walls, both distant and close, a selection of works by studio artists will be offered, such as Peter Klasen, R. Hains, A.R Penck, Georges Rousse, Maya Schweizer , Piotr Klemensiewcz, Manoela Medeiros, Miriam Jonas, Jean-Jacques Surian, Jean-Louis Delbès…
OPEN from Tuesday to Sunday from 1:30 p.m. to 6 p.m., from June 19 to 13, 2021 Implementation of sanitary measures and new reception arrangements, for a visit with complete peace of mind. Normal price 2 exhibitions: €6.50 – Reduced prices: €5.50 – €4.70 – €2 – Free for the Pass Musées, Marseille and City Pass Marseille. Information: info@museeregardsdeprovence.com or 04 96 17 40 40 The Local Heroes exhibition benefits from the support of the Provence Alpes-Côte-d'Azur Region