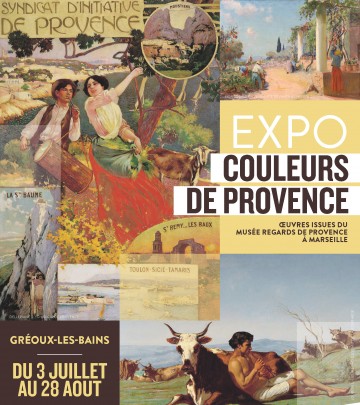 From July 3 to August 28, 2022, in partnership with the City of Gréoux-les-Bains, the Regards de Provence Museum is honoring "Colors of Provence" as part of the summer program of the Château des Templiers. This exhibition, in which all the works come from the collection of the Regards de Provence Museum, brings together nearly 40 paintings from the 19th and 20th centuries. It offers a journey through time through the Provençal countryside and highlights Jean Giono's native country through the beauty and realism of the works of painters from the École des Paysagistes de Marseille.
The landscape took a capital part in the plastic revolution of the XIXth century and nature in Provence was a stimulating element to the genius of Cézanne (problem of form) and Vincent Van Gogh (color vector of 'emotion). Since the middle of the 19th century, the South has been a fashionable destination. Marseille, the Bouches du Rhône, the Alpes de Hautes Provence, the Var, the Vaucluse and the Côte d'Azur. Their countryside, their emblematic villages, the southern coast and the scenes of local life are so many places and atmospheres which fascinate by their particularities, their lights, their colors, with the joy, the sympathy of the accent of the inhabitants who animate.
The craze for nature has generated an abundant pictorial focus, of great sensitivity and strongly rooted in heritage. The artists translate what they experience, attesting to the beauty and diversity of the territory, each experimenting with their pictorial practice, whether academic, impressionist or post-impressionist, symbolist, fauvist, resulting in a spontaneous, clear painting and bright.
July 3 to August 28, 2022,Château des Templiers, Salle des Gardes, Esplanade Cadière, 04800 Gréoux -les-Bains
Entrance fee at €3; Free for children under 12
Open every day from 10 a.m. to 12 p.m. and 4 p.m. to 7 p.m. except Saturday and July 14