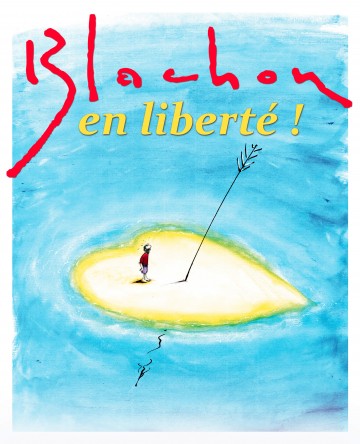 From July 1, 2020 until June 20, 2021, the exhibition "Blachon, en liberté! » is a tribute to the great humanist designer Roger Blachon (1941-2008) and his joy of living, humor and derision, to give lightness and poetry to the ambient atmosphere and to approach subjects of our daily life under a entertaining and quirky angle.
This exhibition reveals his dreamlike, poetic, naturalistic, wine-growing, erotic, sporty and eclectic worlds which testify to his immense talent as a colorist and his great art of layout with lively lines. The exhibition brings together more than 70 drawings and illustrates each theme with a series of maxims and thoughts written by the artist. His Worlds… Roger Blachon was a formidable illustrator, a humanist, a poet, a dreamer, a traveler of incredible curiosity.
Endowed with a contemplative and offbeat humor, his creation is highlighted by an astonishing colorful palette and sometimes revealed in large format. Cynical but never bitter, Blachon has perfected himself in this drawing of humor without words or just underlined with a laconic sentence, inspired by his spiritual fathers: Dubout, Crumb and Blondin. The overflowing imagination, his research, his perfection, his artistic lyricism, the poetry of colors, the elegance of the pen stroke reveal, always tenderly, sometimes impertinently, the worlds of Blachon. From the direct message to the symbolism of the images, Blachon gently shows us venality, pettiness, absurdity, weakness, love, the dream of man and superman…
All his characters or animals – sportsmen, referees, public, winegrowers, birds, elephants, … are affectionately scrutinized and punctuate his dreamlike, poetic, naturalistic, wine-growing, erotic, sporty or eclectic scenes. Bonhomie is "Blachonian" humanity. His characters have chubby bodies, pudgy shapes, chubby volumes. The morphology of the "blachomme" is enveloped, because circumscribed by a precise line, caught in an outline. Blachon excels in the multitude, in the analysis of the postures and expressions of incredible crowds – a fastidious Rabelaisian profusion. His obsessive side and his attention to detail lead to frescoes where nothing is left to chance.
OPEN from Tuesday to Sunday from 1:30 p.m. to 6 p.m., from June 19 to 20, 2021 Implementation of sanitary measures and new reception arrangements, for a visit with complete peace of mind. Normal price 2 exhibitions: €6.50 – Reduced prices: €5.50 – €4.70 – €2 – Free for the Pass Musées, Marseille and City Pass Marseille. Information: info@museeregardsdeprovence.com or 04 96 17 40 40